---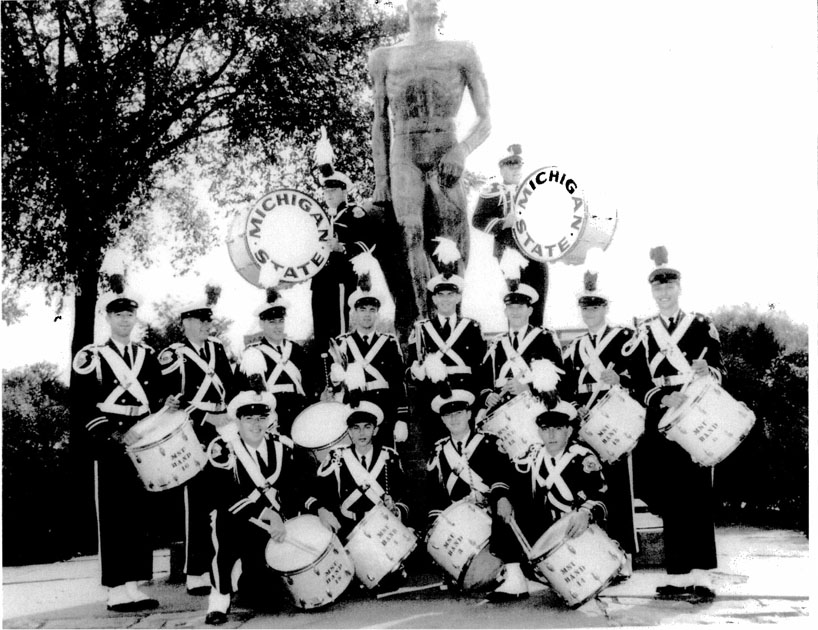 Top row: Bob Vandermolen (left)---Gerry Spry (right)--
Middle row left to right: Unknown--Lyn Lewis--Jeff Wagnetts (sp)--unknown--unknown--Jack McDonald--Wendall Brandt--Joel Leach
Front Row left to right: Unknown--Dennis Kalek--unknown--Jim Sprague
The photo was done as a promotional entity for Slingerland during the 1961-1962 school year. Twas indeed a great time being part of the best drumline in the country. Lot's of wonderful memories and indeed lots of lifelong friendships established. I remember all in the photo by their face but can not remember the "unknowns" by name (after all it is 46 years ago). Joel Leach was section leader for my first three years on the line and really did a fantastic job. Joel demanded perfection in a firm yet tolerant manner--which meant we rehearsed hours at a time. He also acted and was respected as the leader he was and I am certain still is. In those days as you all know the band traveled occassionally via train "Grand Trunk Railroad" from Lansing to such places as Wisconsin and Minnisota--left on Friday night sleeping in berths on the train and eating in the dining car Sat morning and evening---Used to gather in the baggage cars carrying the instruments to talk etc. Leonard Falcone was director and Bill Moffet was the assistant--Falcone used to "Perch" himself on the scaffolded stand while Moffett ran around making sure we all performed in an acceptable manner. Falcone's favorite word was "Amazzzzzzzing" in an Italian accent. It was usually not for greatness but for some screwup on the practice field. Moffet's expertise provided "Patterns in Motion" (seemingly still used by the band) along with music renditions for much of what we played. Moffets first year was 1960-1961 and he (being somewhat younger than Falcone) went through all the drills and rehearsals with the freshmen. Including learning the "Qwik Step" That indeed impressed me. Further he was extremely enthusiastic and energetic throughout all the years I knew him. It seemed Falcone was the music critic and Moffet the manouver critic. I also sent to Spry three pictures of the band in formation during one half time show from the same year. Not sure if they were scanned or not.
Those graduates on distribution KNOW the gratitude from being a member of the MSU Band and I am just a little envious of those yet to graduate and enjoying the experience. I would be happy to share experiences with any of you if you like.
- Jim Sprague
This was a great drum section. I know some of these guys even though this group was just before my time. Joel Leach is second row, far right. He started the Series and was its original inspiration. He and I were later co authors as you know....over about 6 years. I just sent him the picture to get the date and other names. Leach, as a grad assistant when I started in the drumline, truly changed my life by allowing me the honor of following him as section leader and to write a lot of the Series. I will never forget him for that and will forever be thankful. He went on to be a big time college jazz guy in LA and still teaches at Cal State Northridge. We got together many years after graduation by accident at a jazz concert in Hollywood. We continue to correspond often and see each other at least once a year. Great person and someone who was critical to what we are as a drumline today.
Gerry Spry is the upper right bass drummer. Tough guy. He comes to alumni band but doesn't march for health reasons and was also an officer in the band alumni assoc. He has been one of us forever. In the second row 3rd from the right is Jack McDonald. He is fabulous drummer and along with another real great, Jim Sprague, in the first row far right.
These two guys were my inspiration in my rudimental drumming. I remember them like yesterday and they still awe me. Jack plays with us every year in the alumni band and Jim contributes to the Championship endowment and attends the PASIC contests when we compete.
Joel just got back to me in an email and said that row 1 far left is Bob Jupp. I remember these guys now. Bob is very nice guy/good player and comes to see the alumni play often. Second from the right is Wendy Brandt who became section leader as a sophomore for a year right after Joel went to Grad school. I haven't seen or heard from Wendy since 1963.
I was then a tenor drummer before moving to snare and section leader my last 3 years after Wendy left. Joel and I think that the Cymbal player on the left is Bob Miller but not sure. Bob was a powerful and excellent cymbal player who broke more than one set. He hasn't been in the alumni band for quite a few years. Joel has first names only for the others. He says that the pic is either '60 or 61'. I know it is a '61 picture now for sure since Jupp and Wendy were sophomores in '62 when I met them.
- Merritt Lutz